"Calling all knitters! Our Thursday morning
Knitknicks has a new volunteer leader!  Join Hettie,
an experienced fiber artist, for a wonderfully
productive and relaxing morning. Learn how to knit
or come share projects, patterns and fun!"
Well, I joined.  I joined a team of caring community volunteers.  A couple of weeks ago I read an ad in the classifieds that a Senior Center in the county I live in was searching for a volunteer knitting coach.  I was ready to take the plunge and signed up.
Growing up in the Netherlands during the sixties and seventies I was fortunate to be surrounded by women who could all knit.   My first grade teacher, my older sisters and my mother all took the time to teach me the needle arts.  Not only did they share the activity they also gave time and attention as nurturing adults.  I will never forget this group of mentors who helped me through every dropped stitch.
As I look back on those years I realize what a gift I was given.  During times of my life that have been stressful I gravitated to my needle arts as a source of comfort.  It seemed like that strand of yarn flowing through my fingers held some magical power that would solve my difficulties.  I believe this would be wonderful for every child and adult, just to have an ability to make the world go away once in awhile.   I will be reporting the progress of the Knitknicks group, and maybe I share some pictures also.  Have to ask them first..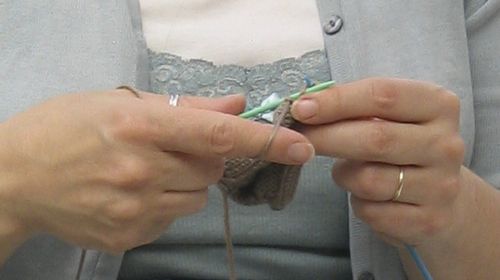 I like to end this blog post with some Knitting Rhymes:
"In through the front door, Once around the back, Peel through the window, Off jumps Jack"
"In the house, Around the house, Through the house, Out of the house"
"Under the fence, Catch the sheep.  Back we come, Off we leap"